Bringing Us Together – Newsletter [Oct 2017]
Hello, you lovely lot.  Life has been so busy here at Bringing Us Together that we thought it was probably worth sharing an update of everything we have been up to, what is coming up and how you can get involved.
What's happening?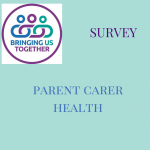 As some of you will have seen on social media, we have launched a questionnaire to find out more about the impact being a Parent Carer has on our health.  This came about because Debs has spent the last two months in quite poor health.  Last Tuesday, after some prompting from Katie, she decided to share this with friends on Facebook and to ask if anyone had any tips.  We were both amazed at how many parent carers responded or private messaged her to say "me too".  So we decided to see if this was prevalent among parent carers or if there were just a few of us having this problem.  We launched a quick anonymous questionnaire on Wednesday and we have already had over 600 responses.  The responses make for very difficult reading.
We are keeping the questionnaire open until 13 October.  Once it closes, we will put together a report on what people have said and share it with you.  We will also be sharing it with several contacts in various government departments and the media.
If you haven't seen it and would like to have your say, please click here or on the image to go to the questionnaire.  It takes less than 5 mins to complete.
---
Coming Up:
Epilepsy & Learning Disability Workshops  
Prevalence rates of epilepsy remain high in those with a learning disability compared to those without and epilepsy is a major cause of death among this population.
NHS England is looking to provide epilepsy pathway guidance to improve outcomes for those with a learning disability and you can get involved.  We will be holding two workshops.  One a face to face workshop in London and the other a Facebook Live chat.
19 October in London from 10-2 (venue tbc)
26 October on FB from 8.30-9.30pm
If you wish to find out more about the London event, please email Katie@bringingustogether.org.uk.  To find out more about the FB Live chat, please email debs@bringingustogether.org.uk
NHS Mental Health Commissioners meeting
This is a follow up from our Stronger Together event in June and will be held on 10 October.  Several of our Stronger Together families will be attending to share their experiences and knowledge.
Health Inequalities Workshop – Leeds
This event is taking place on 13 November in Leeds.  It is for parents interested in health issues; specifically around understanding the role of primary care services in supporting the lifelong journey of our children and young people with learning disabilities and their health care needs.  This is a joint project with Includes Me Too and NHS England.  If you are interested in finding out more or would like to attend, please email Katie@bringingustogether.org.uk
BAPS Awards
Yes, they're starting again.  For those who don't know, the BAPS Awards are a blogging awards evening to recognise the parents who blog about their children and young people, as a way to raise awareness and share their experiences with other parents.  Our first event last year, all organised by the amazing My Family Our Needs, was a huge success, we even managed to trend on Twitter.
The nominations for next year's Awards will launch on 6 OCtober.  To get you in the mood and to answer any questions, please join Debs on a FB Live chat on 5th October at 8.30pm.  Debs will be live on the Bringing Us Together FB page.
---
What have you missed?
This summer we launched our first Survival Guide.  A family Survival Guide to Care & Treatment Reviews.  The response from families (and practitioners) has been amazing.
We will be launching more Survival Guides over the next few months.
We have also just shared our Getting Out report.  This is a Stronger Together families project and shares their experiences of your child going in to an Assessment & Treatment Unit (ATU).
We share what they were hoping for and what actually happened.  We also share their thoughts on what needs to change and what would have helped them.
---
Other News
As some of you will know Katie and Debs wear a few different hats.  First and foremost they are parent carers themselves but they are both engaged in different projects, related to SEND.
Visits Unlimited – Tourism and Travel in London
Katie runs Vists Unlimited.  An organisation looking at true accessibility in the tourism industry.  They are currently gathering the views of families and disabled people on their experiences of tourism and travel in London that will feed into the Mayor of London's new London Plan (for 2019).  This aims to increase the number of Changing Places in new developments.
They want to hear your experiences of what works, what is challenging and what could be done to improve tourism for children, young adults and people with complex needs within the Greater London Authority.
This is a great opportunity for parent carers and disabled people to influence and make a difference to tourism in London for those with complex needs!  To share your views and suggestions, please go to the Visits Unlimited site
Festability
Debs is helping to organise Festability.  A music festival in Kent next year (May 12th) for disabled people and their family/friends.
The event is going to be quite large.  They have a 27 acre field to fill.  So far, they have over 11 bands or acts confirmed with more to come.  There will be a fun fair, a quiet/sensory area, trade stalls, glitter tattoos and face painting, information stands, karaoke, dance workshops, drumming workshops and the all-important feature for any festival – a beer tent!
If you would like to find out more, head over to the Festability site.
---
Newsletter
We realised that we have so many things going on, in different areas of interest, it may be a good idea to have a newsletter.  This way you can get an overview of what is happening (surveys, FB Live chats, reports, Survival Guides, BAPS Awards updates etc) and you can choose to read more on the subjects which interest you.
We will be publishing one newsletter each month – we won't be appearing in your inbox every day, we promise.  We know your time is precious.
Sign Up 
If you have news you think our readers would be interested in, please email details to Debs@bringingustogether.org.uk
SaveSave
SaveSaveSaveSaveSaveSaveSaveSave
SaveSave
SaveSave
Mum to three great kids, each with a different SEN.
Transplanted from the NW to the SE.
Co-founder and Director of Bringing Us Together