Letters I never sent [03]
Over the summer, we will be sharing with you several letters, the letters never sent.  Some to total strangers, some to practitioners and some to friends and family.  Some we will post anonymously and others will link to the author's blog.  
---
Dear Stranger,
You may not know this, but today you made my day. I woke after not enough sleep and summoned the energy to get through the usual morning routine with my 3 lovely kids. Unfortunately, today is a bad day for my daughter with disabilities so no matter what I did, it was going to be a tough one. Before breakfast we had a full on heartbreaking meltdown and challenging behaviour which resulted in her hurting her younger brother.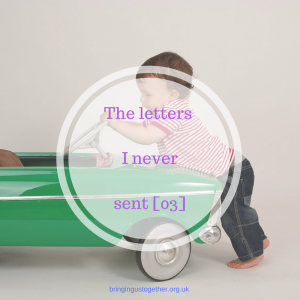 I had promised today to take my eldest to town to choose some new trainers. It was the last thing I felt like doing and I knew that my middle one would be tricky. However life as the parent of a special needs child means that more often than not, you have to carry on with your plans. If I didn't, we might never leave the house.
I managed to get everyone ready and in the car. We had all the essentials and drove the 10 minutes into town to the screeching of one, and the other playing Jess Glynne at full volume. Needless to say I parked up a quivering wreck.
I jumped out of the car and opened the boot – before I knew it my toddler decided to 'help'. Having unclipped himself (a first!) he then helped his sister unclip her seat belt. He then proceeded to climb out through my door and let his sister out – at this point I have 3 kids on the side of a busy High Street including a toddler and one who has zero safety awareness. I am starting to panic now.
Then you appeared….you spotted my dilemma and you stepped into help. You lifted the giant buggy from the boot and set it up while I held onto the younger kids. You went and collected my parking ticket without me asking while I secured my daughter. You prompted me to pop the blue badge in the window before I forgot and found myself with a fine. You made sure my kids were safe and I was ok before you casually carried on with your day.
For you, this may have been just 2 minutes of your day where you helped someone in need. For me, you changed the course of my day. Your kindness gave me much needed positivity; it touched me that a complete stranger cared enough to prevent a potentially dangerous situation escalating. More than anything, your intervention meant that we went to the shops and picked up the much needed trainers for my eldest.
I want to thank you from the bottom of my heart – you saved my day and greatly improved the day for the 3 kids. I hope one day to return the favour.
GG's Mum
You can read more about GG's mum and her life at her blog – The World of Gorgeous Grace
---
If you have a letter you would like to share, one you never sent, then please email it to debs@bringingustogether.org.uk and let us know if you wish it to remain anonymous or to link back to your own site.
SaveSave
SaveSave
Debs is one of the co-founders and Directors of Bringing Us Together. She is mum to three child with a variety of SEND and has a great husband.