What did you miss at the Learning Disability Alliance launch?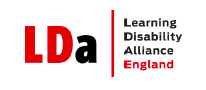 The Learning Disability Alliance held their launch this morning.  If you were unclear why the LDA was set up or why Bringing Us Together are proud to be a part of it, then read some of the tweets from the morning.
Not signed up yet?  Don't worry, you can still sign up as a member, it's free and open to individuals and groups.
Do you realise what we could do? If we all decided to work together?
1millon people with learning disabilities +family, friends, allies = 5 million people = 10% of voters #ldalaunch pic.twitter.com/o2IA9GoUD2

— LDA England (@LDAEngland) November 21, 2014
We're off at the launch of the Learning Disability Alliance #ldalaunch pic.twitter.com/VYfNDWJs7D

— Helen Shields (@helenshields2) November 21, 2014
We've just started something BIG! #ldalaunch

— Sam Sly (@SamSly2) November 21, 2014
Today is the beginning of something brilliant… #ldalaunch pic.twitter.com/kdCPJzwyvC

— Lets for Life (@letsforlife) November 21, 2014
#ldalaunch 94 organisations coming together pic.twitter.com/HoKwwKqiQV

— Carey Bamber (@carey_bamber) November 21, 2014
@BUsTogether @People1stEng here working together in alliance @LDAEngland #ldalaunch

— Katherine Runswick-C (@k_runswick_cole) November 21, 2014
1st upWe told Everyone @LDAEngland launch about the #LBBill OpenDiscussion #learningdisability #LDaLaunch #inclusion pic.twitter.com/nyQRBdvttc

— PSG Speakup (@PSGSpeakup) November 21, 2014
#ldalaunch not just the technical things the DH thinks, it is about the whole of our lives – Simon Duffy

— LDTonline (@LDTonline) November 21, 2014
@RachelMason247 Quality Checking Government is what LDa is all about #ldalaunch

— Sam Sly (@SamSly2) November 21, 2014
All the right people in all the right places! RT @SallyAWarren: @LDAEngland @CommLivingmag #ldalaunch It is time to stop the injustice.

— DrivingUpQuality (@DrivingUpQualit) November 21, 2014
@simoncramp71 "we have a job to do and it is going to be hard. Politicians live on Mars" #ldalaunch

— LDA England (@LDAEngland) November 21, 2014
#ldalaunch this govt is a disgrace in the way it has acted after Winterbourne View. In 3 years they have done hardly anything – Simon Cramp

— LDTonline (@LDTonline) November 21, 2014
@sarasiobhan Connor is in the room. Never forgotten. #LBBILL #ldalaunch pic.twitter.com/yoxMbnj5RV

— Sam Sly (@SamSly2) November 21, 2014
Totally Wrong List The sad results of our inadequate policies and practices http://t.co/LSKLGh9pDv #ldalaunch

— LDA England (@LDAEngland) November 21, 2014
#ldalaunch Cramp: use it don't, lose it! Ppl need to use their vote to tell politicians it's actions they need to provide

— Assoc. Real Change (@arcuk_org) November 21, 2014
Karen Flood: "how many more ppl are going to be abused? When are we going to say enough?" @LDAEngland #ldalaunch

— Katherine Runswick-C (@k_runswick_cole) November 21, 2014
@nationalforum2 When are we going to say ENOUGH. Too many people abused and neglected #ldalaunch

— LDA England (@LDAEngland) November 21, 2014
Gary tells #ldalaunch about horrendous experiences claiming unemployment benefit – politicians have a lot to learn pic.twitter.com/zK5sys0UG3

— H&SA (@H_S_Alliance) November 21, 2014
Kerry 'Everyone together we have a bigger voice' #LDAlaunch #learningdisability #justiceforallthedudes

— PSG Speakup (@PSGSpeakup) November 21, 2014
Katie @BUsTogether 'We need to work together to have the same shared vision Our kids need to feel extra good about who they are' #LDAlaunch

— PSG Speakup (@PSGSpeakup) November 21, 2014
Paula tells about son Thomas who has been punished for being abused by being sent away from his family #ldalaunch

— LDA England (@LDAEngland) November 21, 2014
Paula: "all I want is for my son to come home…" #ldalaunch @LDAEngland

— Katherine Runswick-C (@k_runswick_cole) November 21, 2014
We are all Citizens -mantra for the day! #ldalaunch

— molly mattingly (@MollyMattingly) November 21, 2014
What an amazingly powerful group of people in this room. We are strong together #ldalaunch

— LDA England (@LDAEngland) November 21, 2014
"We need to communicate the fact that these are not one off stories, they are happening everywhere " #ldalaunch

— LDA England (@LDAEngland) November 21, 2014
@BUsTogether It is really important @LDAEngland covers all ages Getting it right in those early years. Investing in our future #ldalaunch

— Rachel Mason (@RachelMason247) November 21, 2014
@simonjduffy 'it's not for govt to tell us what's important, it's for us to tell govt' #ldalaunch

— Assoc. Real Change (@arcuk_org) November 21, 2014
Proposal from the floor that we also "score" our local authorities #ldalaunch

— LDA England (@LDAEngland) November 21, 2014
#ldalaunch planning for action: only 166 days to the General Election pic.twitter.com/u00c3DDIZJ

— Assoc. Real Change (@arcuk_org) November 21, 2014
Some great support from those who couldn't attend the Launch
@juliaunwin writes to @LDAEngland "this is a critical moment for people with learning disabilities to make their voices heard " #ldalaunch

— LDA England (@LDAEngland) November 21, 2014
Natalie Bennet, Green Party Leader, adds voice to the @LDAEngland #ldalaunch #greenparty

— Katherine Runswick-C (@k_runswick_cole) November 21, 2014
#ldalaunch Green Party has joined the LDA England. Labour's Liz Kendall is also supportive.

— LDTonline (@LDTonline) November 21, 2014
#ldalaunch Simon Duffy tried to contact Conservatives, Lib Dems and UKIP but none have responded. Although their silence speaks volumes.

— LDTonline (@LDTonline) November 21, 2014
The Green Party is delighted to join its voice to the LDA and others to say "no more" #ldalaunch

— LDA England (@LDAEngland) November 21, 2014
@leicesterliz writes to welcome @LDAEngland. "I stand firmly by your side in championing a society where everyone is equal.." #ldalaunch

— LDA England (@LDAEngland) November 21, 2014
Mum to three great kids, each with a different SEN.
Transplanted from the NW to the SE.
Co-founder and Director of Bringing Us Together