New Education Survival Guide and more…
We have been teasing you for the last few weeks about new launches today.  Well the wait is over.
Two new products – both of which we hope you are going to love and find invaluable.
Education Survival Guide
We are absolutely thrilled to be sharing this labour of love with you.  As parents, we know there is so much information out there, however, we also know that many parents don't know about this information or they spend time googling to find these pieces of information, often finding it when it's too late.
We have tried to bring together some of that information.  It does not replace the amazing work already out there, nor does it offer legal advice, it just points you in the right direction and shares some useful tips.
The site covers a huge variety of SEND Education – at the moment it only covers the law in England but we have plans!
What's in the Guide
What is Send?
School Duties *with or without an EHC Plan"
EHC Plans
EHC Assessments
EHC Plans – what goes where
Therapies
Involving Parents
Reviews
What if my child's needs are not being met
Appeals and Mediation
Exclusions
Home Education
Home to School Transport
Dealing with Meetings
The Law
Other Useful Links
How to look after you too
So it's a large old document.
This provided us with a bit of a quandry – did parents really want to download all 117 pages of a document?  What if we had changes and updates to add to it?
How could we ensure it stayed up to date and covered more topics that parents wanted support and advice on?
We came up with an idea.
Bringing Us Together – The Survival Guide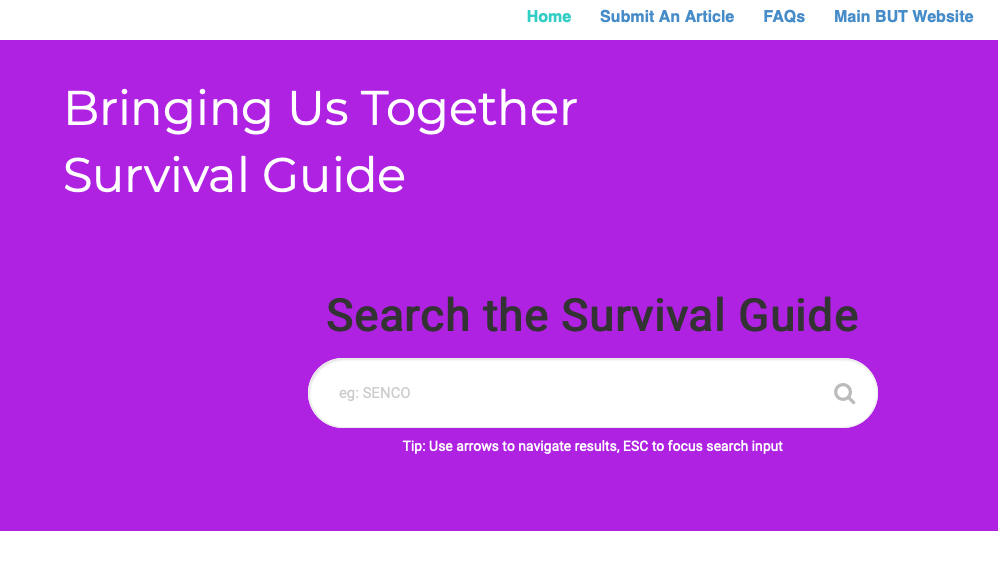 This is a really exciting thing to launch and before we go any further, we really need to give our deepest debt of gratitude to Marc Carter of Little Blue Cup and the Grumpy Dad and his family (who have been happy to loan him to us).  Marc has worked with Debs to get this site from an idea in her head to reality.  The pair have worked tirelessly, with many expletives shared, over the last few months to get this site ready to launch.
Between them, they have come up with a site we are just loving.  The families who have seen it and given feedback are nearly as excited as we are.  The feedback has been very much along the lines of "wow" and we hope you will feel the same
A total survival guide.
The site offers resources in Education, Health, Social Care, Parenting, Support Networks and more.
It also brings together all our Stronger Together work in one easy place for people to find.
It covers each of the chapters of our Survival Guides as individual articles and it has the most amazing search bar!  Just type in any word, and if it appears in any article, a list appears below.
This means you can jump easily to the piece of information you need, without having to scroll through a whole book or scroll through pages of Google search results.
At the top of each article is a small table of contents to help you jump to the bit of the page you want to read:
So enough talking about it, you can head over and read the Guide on the site or you can choose to download the whole thing.
And there's more
We know that there are gaps on this site.  We don't claim to know everything – even if we do tell our kids that we do.  However, we know there are so many of you out there with valuable information.
What can you share about something you know?
Wheelchair users, dyslexia, house adaptations, home education tips, sleeping tips, cerebral palsy, employment, or benefits, for example.  Anything at all you think will benefit another parent.
You can submit an article to us.  It's so simple.  Simply send us a quick message to say it's on it;s way and then write an article.
If you have your own website, a blog, or any social media account. Let us know when you submit it and we will not only credit you as the author of the article, we will also provide links to your site, social media or even your book on Amazon.  Just let us know.
A big thanks to Steph Curtis over at Stephs Two Girls who kindly shared some information on PDA for us to help us get this section off the ground.
You can comment on articles if you just want to suggest another link or have a pargraph to add, and we can get those added.
Comment to tell us about a support network, a useful guide for families, a great website so we can share this with other families.
Education in Wales, Scotland and NI
As we mentioned, the guide currently covers England but maybe you are an expert on the law in Scotland, Wales or Northern Ireland.  What information can you share that we can add to the site to make this site useful for everyone?
FAQs
There is a small page with FAQs on.  Again, this is just for starters.  So let us know the questions you want to see in there.  Or maybe provide us with the question and the answer too.
Head over to the Bringing Us Together – Survival Guide site and let us know what you think?  Do you like the Education Guide?  Is it useful?  What about the website?
We can't wait to hear what you have to say.
Debs is one of the co-founders and Directors of Bringing Us Together. She is mum to three child with a variety of SEND and has a great husband.