One Minute on Monday
We've had a busy week here at Bringing Us Together organising our new Web Chats and keeping our forums up to date with news, events and campaigns.
Announcement regarding the site
On Friday 28th March, we will be moving our website to a new host so for a short time, the site may not be available.  We apologise in advance.
Web Chats
We have three web chats booked in so far and you can post questions NOW (really useful if you cannot make the actual time and date of the web chat).  On the day, some of the questions will be answered online and others will be answered off line.  We will then be publishing  an "Asked and answered" web chat update for those of you who cannot make the date.  Subscribe to the chats you are interested in so you don't miss a thing.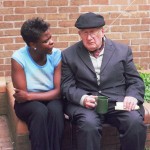 Justice for LB:   On 1 April, 2014 – Sara Ryan, the mother of Connor Sparrowhawk (#justiceforLB) will be joining us at 7pm.  Connor was 18 years old when he drowned in the bath in an NHS specialist facility (Slade House Assessment and Treatment Centre run by Southern Health NHS Foundation Trust) on 4 July last year. He had learning disabilities and epilepsy and should never have been left alone to bathe unsupervised.
The #JusticeforLB campaign has been put together to try and draw attention to his preventable death, ensure that people know about him and that change occurs. It is two years post Winterbourne View was exposed on Panorama and yet still young people with learning disabilities are sent to treatment and assessment centres with devastating effect.  Sara is running her Justice for LB campaign over 107 days and we are honoured to have Sara here as part of that campaign.  You can post your questions now on the forum.
Children & Families Bill – should you be concerned or happy?  On 24 April, 2014, Jane McConnell, the Chief Executive of IPSEA will be joining us from 1pm.  Jane will be answering your questions about the Children and Families Bill. This Bill gained Royal Assent on 13 March and will come into effect in September 2014.
If you have a child or young person (0-25) with any special educational need or disability – with or without a statement, on school action or school action plus – this Bill will change things for you.
School Action and School Action plus are going, as are Statements of SEN.  Some of the changes are positive but there are changes which may not necessarily benefit all of our children.  You may have heard rumours, been given incorrect information or possibly don't even know these changes are coming.  As a parent herself, Jane knows exactly what battles we face when it comes to educating our children.  Jane will answer honestly and candidly – this is one web chat you do not want to miss.  You can post your questions now on the forum.
What you can expect from your SENCO?  On 15 May 2014 at 10am, Julie Revels of Church Park Consultants (who delivers accredited training to SENCOs and is often the Key Speaker at SENCO conferences) will be joining us. We are so happy to have this great opportunity for parents because so often, people are confused about what their SENCO's role is. Julie is happy to answer your questions.  You can post questions now on the forum.
My Story Bloggers
Also, this week, we have launched our first "My Story" blogger – Katie.  Katie has written about her life and PAs and it has received some really lovely comments.  Would you like to share your story with us?  We have had a few people interested but quite nervous about what was expected.  So take a look at Katie's blog and feel inspired (and reassured), then get in touch – debs@bringingustogether.org.uk
On the forums this week
We are always amazed at how diverse some of the chats are on our forums.
What else?
This week will be spent working on a new idea to really Bring Us Together, so watch this space as we think you will want to be involved.
We're asking what else you would like to see on our website?  What would be of benefit to you
If you would like to be involved with Bringing Us Together, as an individual or as an organisation, then get in touch, we would love to hear from you.
Mum to three great kids, each with a different SEN.
Transplanted from the NW to the SE.
Co-founder and Director of Bringing Us Together