P: A to Z of Family Rights and Family Lives
This week's A to Z is dedicated to Paula Rawnsley who last week held her son's funeral.
Our hearts and thoughts are with her every step of the way.
P is for Paula.  A mum full of unconditional love for her disabled child Thomas.  Who is going through what many of us fear.   Faced with the death and the funeral of her own child.  Here below is her beautiful and tragic poem as he lay in the morgue.
Thomas is home!
Thomas is only a ten minute walk from me now. I can see him whenever I want.
No visiting hours as there was in the ATU
So close I could see him everyday until I say my final goodbye.
I can stay as long as I like
I can walk away safe in the knowledge nobody is going to hurt him anymore
It's a crime that only his death has allowed that!!
P is for Our Promise to Paula – Thomas will live on within us all.  Your story has touched hundreds of us around the country.  We have had our hearts broken with the sad ,sad stories of the other dudes that have died needlessly.  We know you have walked a long walk already and that your journey for truth and justice is just beginning.  We are here for you and will do all we can to tell your story and the other dude's stories to our friends, to strangers, to our children and we will find a message of hope amongst the pain to share with one another.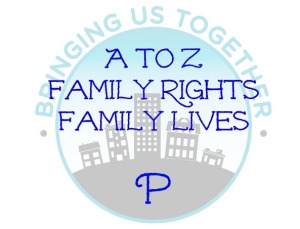 P is for Preventable.  Paula's heartache knowing that Thomas's death was preventable.   We can't imagine the agony this must be causing.   Yet, ironically we read the day before Thomas's funeral the following from the Guardian Newspaper:  "Hospital psychiatric detainees more at risk of preventable death .Deaths of more than 600 mentally ill detainees in England and Wales could have been avoided, says Equality and Human Rights Commission report."
Deborah Coles, the co-director of Inquest, said only last week the charity had warned that healthcare services were "Prone … to be defensive and will close ranks if someone dies in their care.  At the moment, hospital trusts don't learn the lessons of each tragedy. After a Patient dies, the hospital trust effectively investigates itself over deaths that may have been caused or contributed to by failures of their own staff or systems. Families are excluded and fight to get basic information. Unlike trusts who have Publicly funded lawyers to defend their Policies, families struggle to find funding .Coroners attempting to probe the circumstances of such deaths do not have the Pre-inquest support of an independent investigation making it difficult to fully investigate systemic failings or to Provide insight or guidance on the Prevention of future deaths."
P is for Protection – The Court of Protection  in English law is a superior court of record created under the Mental Capacity Act 2005. It has jurisdiction over the property, financial affairs and personal welfare of people who it claims lack mental capacity to make decisions for themselves. The court makes decisions about where protected persons live, who they see and how they are cared for.  Justice for LB and the LBBill is working towards a change in the law.  We think there are two key things that must change. They are working towards:
make it a legal reality for disabled people to be fully included in their communities
make it harder for the State to force disabled people to leave their homes against their wishes, or the wishes of their families.
P is for Passion – we know that this is what is driving us forward to be there to support Paula at this dreadful time, and what is making so many of us plant the seeds that will change the world to a more loving, compassionate and respectful place.  Behind the doors, typing madly away on their computers, writing blogs, facebook messages and fundraising are a group of very passionate people.
P is for the Public –  raising awareness to the general public and letting them know about Thomas together with the other sad and horrendous stories we are hearing on a daily basis.  We are getting the message out on social media to let the public know that this is horribly wrong and must NEVER happen again.
P is for Psychoanalysis  –  Antipsychotic medicines, also known as neuroleptics, are usually recommended as the first treatment for psychosis. They work by blocking the effect of dopamine (a chemical that transmits messages in the brain). However, they're not suitable or effective for everyone, as side effects can affect people differently.
In particular, antipsychotics will be monitored closely in people who also  have epilepsy and cardiovascular disease Antipsychotics can usually reduce feelings of anxiety or aggression within a few hours of use, but they may take several days or weeks to reduce other psychotic symptoms, such as  delusional thoughts.
Good compassionate support closer to home out of the Assessment and Treatment Unit may indeed have decreased the amount of drug use needed to restrain Thomas.
P is for Power – our message to Paula is that we are powerful not just in our numbers across social media, but through organisations and individuals all over the country campaigning for justice.   We have people with skills and compassion who together will make a powerful difference.   We don't want what happened to Thomas, Nico, Connor,  or that is happening to Maisie from Hull happening to anyone else.   If you think you can help please do register your interest
https://www.youtube.com/watch?v=VuB8i5t6nKQ&feature=youtu.be
P is for Providers – We want providers who can promise us that they have well paid, caring, loving staff who are skilled, open to learn, hard working, excellent communicators, patient, motivating, and ideas people.  We want Providers to understand person centred thinking in a way that builds on strong values within organisations, who follow the social model, who are creative in their thinking and who want to make a difference to our young people.  We want Providers who will think "yes, the support here is good enough for my own mother, daughter, or my sister".
P is for Parents – we are still here when services and professionals have gone to bed.  We are here on bank holidays, Xmas and New Year.  We do not have a day off from thinking about our young disabled people.  We worry about them till the day we die.  Nothing is ever going to be good enough for us – true.  Our standards are high, we know the risks to take, we know what is important to our young people for we have listened to their breathing at night, their jumbled words in the day, their falls, their laughter, their ups and downs, their sighs and their struggles, their joys and their laughter.
Take note, we are here for the duration.  Paula will not give up her fight and she takes on this next stage of her journey an Army of Parents with her.
And lastly P is for Peace.  May Thomas Rest in Peace.
Xxxxxx
Subscribe to Blog via Email