Paperwork Pandemonium or Peace [3] – Filing Systems
Two weeks in and if you have been following the process to the letter, your paperwork will seem less chaotic and more co-ordinated.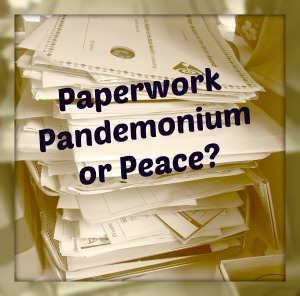 By following week one and two guidelines, you will have
sorted out your piles of paperwork into organised piles of paperwork,
have a pot of pens with only pens that work in it
destroyed paperwork that is of no relevance (after taking down notes of useful contact names and numbers),
wrote a list of what you needed to do on your "To Do" list,
actioned a few of the items on your "To Do" list, and
eaten a frog or two.
Well, perhaps you're not there yet, but you are not alone so stop being hard on yourself,  However, when you do get there (and you will), what are you left with?  Oh yes, that one thing that sends a shudder down so many spines.  The filing!  Filing is one of the only times, I believe, that labels are acceptable.  Labels for people are unhelpful and show a lack of understanding but using labels for filing?   Absolutely fine, in fact, they are essential.
Grab that pile of filing and let's chat about some different methods.
First of all, it has to be something you can keep up.  There is no use in spending a day or so punching holes into paperwork to file away if you know that when you have finished today, the next piece of paper to come along for filing will just get added back to a pile because finding the hole punch and the right place in a folder takes time.
I know that lever arch folders just don't do it for me.  I have lots around the house that I have purchased with good intentions but it fails quickly so the paperwork starts to mount up again.  However, I also know that lever arch files work brilliantly for some people.  I have a friend who has a lovely row of lever arch files with A4 file pockets inside (no need for the hole punch) and it looks lovely.  I have tried, honest, but I have accepted that lever arch files and me are never going to be a couple.
Suggestions
I invested in some clear folders from Staples or you can also use A4 file pockets like these from W H Smith.  If you use the file pockets, you can write the label of what is inside the pocket on the white part of the pocket.  If you use the clear folders, then buy a box of cheap stickers from any stationers (or supermarket) and use those.
Separate your to filing list into categories.  You will probably end up with lots but think of them as sub-categories.
Mine are something like this:
Child 1 – DLA
Child 1 – Statement
Child 1 – School letters
Child 1 – Child Trust Fund
Child 1 – Consultant Paed reports
Child 1 – SALT reports
Child 1 – SW report
House – Insurance
House – Phones – Landline
House – Phones – Debs mobile
House – Phones – Chris mobile
House – Phones – Insurance
Car – Motability
Child 3 – Ideas to try
Finance – Carers Allowance
Finance – bank statements (current),
Finance – bank statements – Kids, etc
Family – self esteem activities
Your categories will be different and relate to your life, not mine, but I thought a few examples may help.  As I go through each pile, I also write a list of useful contact names, references, telephone numbers, account numbers and similar to store in one easy place, before I actually file anything.  I use a large box, rather than a filing cabinet, which sits under a table so it is easy to access and also, because I use clear folders, I can file pieces away quickly.
Quick tip:  I find it easier to have files for the kids (with the exception of bank statements) under the child's name.  This means when I am looking to renew DLA or reply to another "oh sorry you don't meet our criteria" letter, I can grab all of the files relating to them easily.  I don't have to go to a variety of places for the information.  However, remember filing systems need to work for you.  It is often best to look at a variety of ways other people do it and then choose one or two elements of each system that you think will work for you.
If you also work, whether paid or voluntary, you can use the same system for that paperwork.  I have a Bringing Us Together category, this includes things like Business Plan, Companies House, Project 1, Project 2, sponsors, etc.  I have a Chaos in Kent category (a personal blog) and a Special Needs Jungle category.  I also have a Community Circles category and an Inspiring Circles category (workshops I deliver).  I keep my work related files in a different box, this also includes finances relating to any of this.
Quick Tip:  If you need to keep receipts but struggle to keep them organised, buy a cheap plastic photo wallet (like this one from Paperchase), label the plastic sleeves either by month or by subject (train, stationery, printer ink, etc) and store them in there.  You will thank me at the end of the tax year, I promise you.
Another paperwork filing method I want to try but as of yet haven't – think of this as one of my "eat that frog" activities – is the 43 folder system.
Now, I have to sadly admit that I find this idea quite exciting.  I have considered how I could use it, for example annual review paperwork, DLA renewal, etc and I think this will definitely be something I have to tweak to make it work for me.
Now, there are some people out there who colour co-ordinate their filing systems (honestly, I am not making this up) and have hugely organised filing cabinets.  There are also people who have paid a small fortune for a filing system that explains how to move your files on an annual basis. If that works for you, fantastic but I know personally I don't have the time for anything too fiddly.  I did get the idea of using sub-categories from the coloured filing system though.
How do you keep on top of it?
This is the big question.  We can all spend a few hours getting organised but staying organised takes a different type of discipline or system.
We have a "family station" – this was an idea I borrowed from several American bloggers but one that really works for us.  This comprises a few magazine files (if you don't have magazine files, then recycle your cereal boxes) .  Have one box as a "to do" box – (a school trip that needs a signature, a newsletter with some dates on that needs to go into my diary; one box for "filing" – bank statements, bills paid by Direct Debit and one box "to read" such as school reports, magazines, etc.  When my kids arrive home from school, it truly is Chaos in Kent and I don't have time to sign papers, find £1 for child #2 to buy cakes for Children in Need, etc so I file them in these boxes as soon as they come home and then look at them properly after the chaos calms down.
I stick the useful contact number list to one side of the boxes and then on the other side I add a list of "important dates" which has birthdays, anniversaries etc.  That way I can see at a glance what cards or gifts I need to buy each month.
Once a week, I then go through the "filing" box and clear that, I also check that everything in the "to do" box is cleared and either thrown away, sent back to school or filed.
Some people have a little box for saver coupons, others have one for receipts, one friend keeps her receipt album in a box here – again it is what works for you,
The whole idea of these posts has been to help give you some ideas and some support through the minefield of paperwork.  We really hope that one or two of the ideas will help and over the next few months, we will be looking at other ways to get organised when living in the world of SEN and Disability.
The final aim is that you will have a bit more time for you.  Whether you choose to use this time sleeping, reading, bathing, swimming, writing, joining a group or meeting a friend for coffee is entirely up to you but imagine having that time for yourself, isn't it worth eating a few frogs to get it?
Mum to three great kids, each with a different SEN.
Transplanted from the NW to the SE.
Co-founder and Director of Bringing Us Together