PREGNANT PAs – PART 1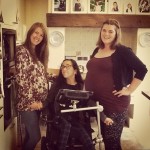 It must be something in the water. There have been a series of wonderful women in our lives who have had the utter cheek to go and get pregnant, go on maternity and then have babies.  We have missed them madly and have followed their lives as mothers and have the pleasure of lots of visits from them and their offspring.
The first PA to get pregnant was Jenny.  Jenny has recently come back to work with Nadia after having had two children.  She has kept in touch with Nadia over 5 years during which time she came round to our house with the babies numerous times.
The second PA to get pregnant was Sarah who came to work with Nadia as extra help with homework on Sundays. Nadia was in secondary school and needed support to keep up with all her work.
Sarah was working at the Halifax building society and was looking for a new opportunity and change in career. Nadia and I were honoured to be at her wedding a few years ago and her happy, slightly merry husband, told us on numerous times throughout the celebrations that "You changed Sarah's life, thank you".
It is something Nadia could put on the job description "This job changes your life."
I remember the day she told us she was pregnant.  I gritted my teeth and tried to look pleased for her, whilst my mind was working ten to the dozen and I was really thinking "oh no, that means in 6 months time she is going to finish, and how on earth are we going to replace her, and she probably won't come back, and we are going to have to pay maternity" etc etc.
I was also not sympathetic to her early pregnancy sickness.  I read the information on the Gov.uk page for Pregnant Employees and realised that legally I would have to be far more flexible, be more positive, and enjoy the rest of her pregnancy just like Nadia was doing!
I have just asked Sarah to add her bit about working with Nadia and she has sent me the following:
"Yes, it was just Sundays initially and gradually increased my hours. I found out about the job at college when doing my British Sign Language level 2 I think or possibly it was level 1. I remember meeting Nadia for the first time and if I'm being honest it was sort of the first time I'd met with a disabled person! I remember thinking I can't do this job!!! And you invited me back for Sunday dinner at which point I stayed 5 hours and completely fell in love with Nadia and I've never looked back. I remember my world and my views changing before my very eyes, The Clarkes taught me everything I know. I loved working with Nadia in those early days when she was a moody teenager and used to refuse her homework by driving off in her wheelchair at full speed! I remember all the fun and conversations we used to have in the bathroom, that's where all the gossip was! I remember Nads having her tracheostomy and coughing and something flew out of the end of it and I honestly thought she was going to die! Needless to say she laughed her head off at me. I remember watching Nadia grow into a beautiful young woman, accompanying her to festivals, London, Barcelona!! I remember sobbing and sobbing when I left for maternity leave and thanking you all for changing my life. I remember returning with Poppy in my arms and beaming with pride as I introduced her to Nadia. I could go on and on…. I flipping love the woman."
Thank you to our pregnant PAs, thank you for being part of our lives and thank you for enriching our lives with your children.