Why do children & young people end up in ATUs?
In June we brought together a group of families.  These families had one thing in common. They either had a child or young person currently in an Assessment and Treatment Unit or they had had a child in one.
We spent a weekend together sharing stories, experiences and knowledge.  The weekend was hugely emotional, as I am sure you can appreciate. However, it was also a positive experience as everyone wanted to ensure they shared any knowledge they had to help others.
The one thing that really stuck out is that even in the middle of some absolutely awful experiences, these families wanted to raise an awareness for those children and young people in ATUs who didn't have a parent.  All of these families realised that this is not just about them and their child, there are over 3000 children and young people in ATUs and this needs to change.  We were promised by the Government that this would after the Winterbourne View documentary was aired by Panorama.  However, here we are, years later and as the French say "plus ça change, plus c'est la meme chose" the more things change, they more things stay the same.
Children and young people are still dying in some of these units, children and young people are still experiencing abuse in some of these units and parents can do nothing.
Imagine if you had to ask permission to see your child.
Imagine if you had to make an appointment to see your child.
Imagine if you were allowed to visit but you were not allowed to take any personal items to them.
Imagine if you were told you couldn't take photographs of your child when you do visit?
Imagine if your child was treated in the same way as a prisoner (often with less dignity) just because they happen to have a learning disability?
Imagine if you wanted to speak out about this but you didn't because you were scared of the consequences to you and your child?
You would think in 2016, this could not be happening but it is.  This is really happening.
Reports:
If you want a brief synopsis of some of the comments heard over the weekend, we put them into a post for you – you can click here to read it.
However, if you want to read the full story of this event, we are publishing two reports today.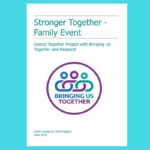 Stronger Together:  This is a report from our weekend with families.  It talks about what families thought the issues were, it also looks at the possible solutions and recommendations from families.
Support Needed:  This is a report showing the results of a survey we carried out at the end of 2015, early 2016.  We asked families what support they needed when they approached or were in crisis.  We also asked them how difficult it had been to find that support.  We asked them what support they had found and how useful it was to them?  We also asked them if anyone told them were to find the support and the majority had no one except another fellow parent tell them were to go.
One of the things we found in both our survey and the weekend is that when education goes wrong, it all goes wrong.  This isn't always just an issue that starts as our children transition to adulthood – although one parent described that experience as "it wasn't falling off a cliff, it was being pushed off a cliff" – the issues often start much earlier.
Donate:
Justice Together  is a joint project between Bringing Us Together  and Respond , together with a core team of other volunteers.
We want to bring families together to share their learning, their experience and their knowledge so we can help families to avoid this.
We want to ensure that our website has all the information, resources and support families need so they do not need to spend hours searching the internet for it when they are emotionally exhausted.
We also want to provide Justice Circles for those families with children in ATUs who need help.  A Justice Circle would offer support by providing a co-ordinator to the family, to help them navigate their way through the system.  Someone who would take the burden of learning the system away from the family, so allowing them to deal with the emotional impact this brings.
The monies raised will go towards financing:
*  website hosting & maintenance,
*  promoting the site and contents so families know it is there,
*  working with families to ensure the information is relevant,
*  events to bring families together,
*  meetings for a core group of families to keep driving forward their campaign work, and
*  funding Justice Circles for families.
If you would like to make a donation to help us help families then we have set up a GoFundMe page where any contribution would be gratefully received.
Mum to three great kids, each with a different SEN.
Transplanted from the NW to the SE.
Co-founder and Director of Bringing Us Together