The BAPS Awards are open
Nominations for the BAPS Awards are open.  And this year, it's not just for bloggers!  Yes, this year (due to several requests), we are including a category for Bl**dy Awesome ParentS who don't blog.
There is always an excited hum in the world of SEND when we launch the nominations for our BAPS Awards.  We're on year 3 and the excitement just keeps increasing.  I love all the private messages I get, checking for details, asking what I think of videos asking for votes and people offering bribes if I can let them know first who the host will be.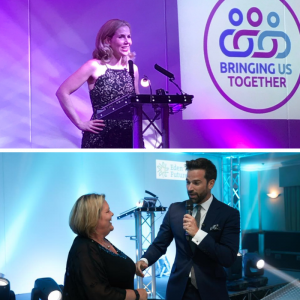 On our first year we had the lovely Sally Phillips who really helped the launch of our event go smoothly.  On our second year, we had the very handsome Gethin Jones who brought a very different vibe to the room.
This year, we're waiting for final details before we can announce.  We always look for people who have a connection to the SEND line, either as parents, uncles or siblings.  So watch this space.
However, that doesn't mean just sit back and wait for that announcement.  There is work to be done.
Nominations for the BAPS Awards are open and you can nominate in a variety of categories.
Categories:
Newcomer – someone who has started blogging in the last 12 months.
The Truth about SEND – the blogger who makes you laugh or cry, the one who in the last 12 months has helped you by sharing the Truth about life on the SEND Line.
Blog Post with biggest impact – We all have that one blog post (either on a blog or on social media) that makes you stop for a minute.  It becomes something you think about from time to time because something within it resonated with you.
Blogger Making a Difference – Some bloggers use their site to raise awareness or campaign for change.  There are some great bloggers out there making a real difference to the lives of many.
BAPS of the Year (Non blogger) – This is for those BAPs who don't blog but perhaps run a support group for many, or have set up a Free school or studied for a law degree.  The BAPS who is there for others.  This is not the same as the blogger making a difference, this is for those BAPS who don't blog but deserve recognition for all that they do.
WellBeing Blogger – Looking after ourselves and our families is something we all need tips on, especially the looking after ourselves bit!  This category is for those bloggers who share tips and ideas for families on how to look after themselves and their families.  Parent Carer Health and Well being is so important to Bringing Us Together.  The results of our survey on Parent Carer Health were heart breaking but sadly, not shocking.
Travel and Accessibility Blogger – getting out and about or adapting our home life is something so many of us have to do.  School holidays can often lead to isolation if we don't know where we can go, what is available and how accessible it is.  Our homes can become difficult to live in without little (and sometimes huge) adaptations.  Knowing what is available and getting tips and ideas from other parents can be life changing.
Best Use of Media – The BAPs out there using social media in a creative way to raise awareness, share their story and tips, or just being relatable to other parents.  This can be on YouTube, Instagram, Instagram Stories, Facebook, Facebook Stories, Facebook Lives, Periscope, Snapchat, etc but they don't have to have a presence on every channel.  We want to find those who use social media well, even if that is just one channel.  Who do you follow on social media and what makes you go back to them to see more?
BAPS of the Month
Don't forget we also run a BAPS of the Month award.
You can nominate for October here and November nominations will be opening later this week.
Debs is one of the co-founders and Directors of Bringing Us Together. She is mum to three child with a variety of SEND and has a great husband.